Until this week, when the author of the book Before the Movies contacted me, I knew little about Philadelphia artist Joseph Boggs Beale. In writing Boathouse Row, I had learned that he was a member of the Undine Barge Club and that in 1862, he beat out a fellow Central High School alum, Thomas Eakins, for the position of Professor of Drawing and Writing at the school.
Beale at the time was 22 years old; Eakins was 18. Although both were rowers,  they may or may not ever have rowed together.
What surprised me this week was learning that Joseph Boggs Beale had played a huge role in the world of "magic-lantern entertainment," a precursor of modern-day movies. Beale in the late 1800s became  the "foremost magic-lantern artist… in the nation," according to Terry Borton, co-author with his wife of Before the Movies and a collector of Beale's art.
In an era before TV or movies, people would flock to churches or other large halls, where  a set of magic lantern projectors would show slides made of Beale's  intricate drawings (colorized by the firm of C.W. Briggs), often accompanied by a dramatic speaker or music.   Each series of drawings told a tale such as Edgar Allen Poe's "The Raven,"  the "Wreck of the Hesperus," or the life and assassination of President McKinley. The projection system  created the impression of movement as the slides  – projected onto large screens – slowly dissolved from one to the other as each projector came into play.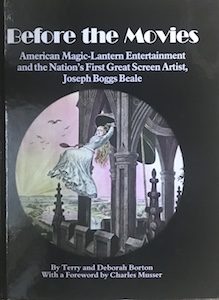 Beale created hundreds of drawings used in dozens of these storyboards, seen by millions of Americans in the late 19th century. 
Terry and Deborah Borton have long collected the art of Joseph Boggs Beale, which they use in magic lantern shows at their
American Magic Lantern Museum
in East Haddam, CT.  They estimate that the number of magic lantern shows nationally in the late 19th century was "75,000-150,000 a year," given by 30,000-60,000 lanternists," most of whom were "small-time local performers." The demand for such shows supported "some three hundred American manufacturers and distributors of magic-lanterns and slides."
One of the largest companies to produce the slides was C.W. Briggs Company of Philadelphia. Beale began working for them full time in 1892. Beale drew storyboards which were then photographed by the Briggs factory and turned into glass plates,  which were typically then hand-colored and set into wooden frames to be used as slides. Below is a film explaining more about the process, told by Terry Borton.
I was so intrigued by Beale that I went to the Historical Society of Pennsylvania to read his diaries.  I'll write more about what I learned from them  in my next blog post on Beale.