Joan Lind Van Blom, the first American woman to win a singles sculling medal in Olympic competition, is being remembered in a moving documentary that I recently got a chance to see.
Joan won the silver medal in the 1976 Montreal Olympics, the first Olympics to include women rowers. Had it not been for the likely use of blood doping by the large, muscled Soviet oarswoman who won gold, Joan would surely have won the race. Instead, she lost by just .65 of a second.
Many say Joan should have, in later years, claimed the gold medal after the extent of illegal drug use among the East Bloc athletes was revealed. (An East German came in third in Joan's race). But she did not. That was not Joan's way, as is made so clear in "Kiss the Joy, the Story of Joan Lind Van Blom."
A steely determination to win — and to do all the hard training that being a champion demands — was what led Joan to one medal after another, including a second Olympic silver, in the quad, in 1984. In her diary, for instance, Joan would write, over and over:
"The fastest woman sculler in the world. The fastest woman sculler in the world. How lucky to have such a goal. I'm going to do it."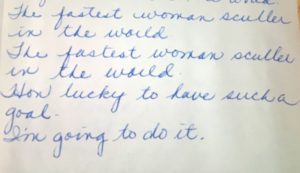 But that unrelenting drive was a passion wrapped inside a woman of grace and generosity. Because others, she said, had given of their time and energy to coach her as a young rower in Long Beach, California, she spent much of her life doing the same. "I want to give back," she said in an interview. "Giving back as much as I can –sharing the sport, sharing my passion because others did that for me and it's given me my life… and lifetime bonds."
Joan's joy in life and her determination to not give in or give up was poignantly apparent towards the end of her life when cancer struck. That's when filmmaker Jean Strauss, a rower who had trained with Joan in Long Beach in the 1980s, visited her and felt the urgency of filming a documentary while Joan was still alive. Strauss followed her through her final months, even capturing a scene that had me almost sobbing: Joan, now blind from her brain tumor, continues rowing alone in her single, guided by her husband, John Van Blom, who calls out directions to her from his own boat.
Many of the women who watched the movie with me at the US Rowing convention in Philadelphia last month had trained with Joan in the 1976 Olympics in Long Beach or rowed with her in Montreal and shared stories of that era, when many men still believed women incapable of rowing the standard 2000 meters. One of those rowers, Diane Vreugdenhil, flew to California to spend time with Joan before her death in 2015.
Of her glioblastoma, Joan candidly told an interviewer: "It's incurable. I've had treatments. Two brain surgeries, radiation, chemotherapy…Crying about it is just a waste of time. I feel so fortunate for what I've had," she said, mentioning her husband, her family, her friends and her rowing community. "I've had a great run."
For more about Joan Lind Van Blom and links to interviews with her and a video of her 1976 race, see this article in USROWING