With most boathouses now closed, why not savor rowing through some of the evocative, entertaining, even thrilling books on rowing. Boys in the Boat, about the U. of Washington and the 1936 Olympics, is fabulous, but there's more out there.
I've just finished reading one you likely may not have heard of: Suga Water, A Memoir by Arshay Cooper, a fascinating account of the first black crew. I learned about the book at the Head of the Schuylkill when someone bought a copy of my book as a present for Cooper. I thought I should return the favor by buying his book.
Arshay Cooper takes us inside his world of the 1990s, a low-income black teenager being raised by a single mom and trying to resist the pull of drugs and all the other social forces that derail inner city kids from school and a route to success.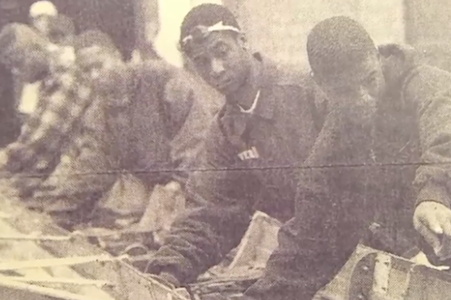 Fortunately, a determined mentor, Ken Alpart (Penn Class of 1987 and a rower) stepped up to create a crew program at Manley Career Academy on Chicago's west side. In intimate detail, Cooper recalls the challenges, embarassments, demands, hard work and more that brought a scrappy group of African American kids together in training and competition– changing their lives. Here is an excerpt:
I look around at my teammates: some of their mothers are drug addicts, their fathers are nowhere to be found, brothers are in gangs, sisters are having babies, uncles are in jail, friends are dying and refrigerators are empty. But we are a beacon of light….We went into this thinking we would change the sport of rowing like Jackie Robinson did baseball, but the sport of crew has changed us.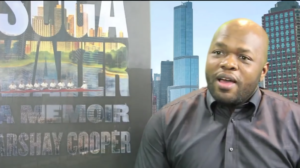 I'm surprised at how much I loved Suga Water, which is upbeat and hopeful (exactly the spirit we need right now in this time of pandemic.) It's been made into a movie A Most Beautiful Thing which was set for release March 27. (I'm guessing a delay is likely). The book is also being reissued with that title.
Some other rowing reads:
Olympic Odyssey, a memoir of the surprising victory of the Vesper Boat Club eight at the 1964 Olympics (oops, I gave away the ending), written by a member of that crew, Emory Clark. I've had the privilege of sitting next to Emory at the last few Head of the Schuylkill Regattas, as he lured people into buying his book by offering to let them pose for photos wearing his big gold medal around their necks.T
The Red Rose Crew, by Daniel J. Boyne (who kindly wrote a blurb for my book) about the intrepid women who dispelled stereotypes and under Harvard coach Harry Parker, went on to become one of the country's first internationally competitive women's crew.
An Obession with Rings by Joanne Wright Iverson, who in the early 1960s decided she wanted to row in the Olympics, only to learn that women still could not compete at that level. She spent the next decade working to make women's rowing an Olympic sport. Her book is the inside story of how that finally happened in 1976 and her role at the center of that effort.
For those high school kids in Philadelphia unable to row this spring in the Manny Flicks or perhaps even the Stotesbury (though that hasn't been cancelled yet), I have a chapter in my book, Boathouse Row, about high school rowing and about Edward T. Stotesbury, once one of the country's wealthiest men, who is long forgotten but for a silver cup he gave for a schoolboys race.