In a tribute rarely seen on Boathouse Row, the many friends and admirers of John Izzard today, Sept. 24, honored his life in a "Last Row.".Numerous boats lined up at Philadelphia's Girard Bridge to row downriver to his boat club. Rowers dressed in blue, his favorite color and one of the boats carried his ashes, which his wife, Parthenia, returned to the river he loved. A beautiful story about the event is here.
John died Sept. 9 of an aortic tear at the age of 80.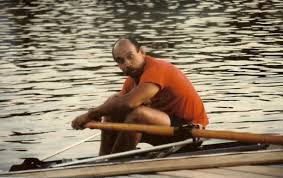 The Last Row is a well deserved honor for John Izzard, a major presence on Boathouse Row for nearly 50 years. He was one of the first black rowers on the Schuylkill, joining the Undine Barge Club in 1974. He told me that while he experienced a few slights as an African American on the river, his advocate — famed rower and Haverford School coach Jim Barker — advised him, "You're not here to make friends. You're here to row. And by rowing, you make friends."
John made many. He also supported youth rowing and set up an annual prized for a high school rower who, beyond athleticism, also showed service and achievement.
When I interviewed John in 2018, he told me about his many years on the river, often with Parthenia. You can read my blogpost here.
Another profile of John can be found on the Head of the Schuylkill Regatta (HOSR.org) website.
Thank you, John, for your many contributions to Philadelpha and to the Row. We will miss you.