Reviews:


Another glowing review! This was published by 21st Century Media which owns suburban papers all over the place.  Here it is:

---
Pennsylvania Heritage magazine, in its Spring 2017 edition, calls Boathouse Row "a superb new book."  Brown, he says, "reveals numerous charismatic and talented personalities, tells a slew of frequently amusing and inspiring stories, and leaves the lucky reader understanding one of the proudest aspects of Philadelphia sports and recreational culture."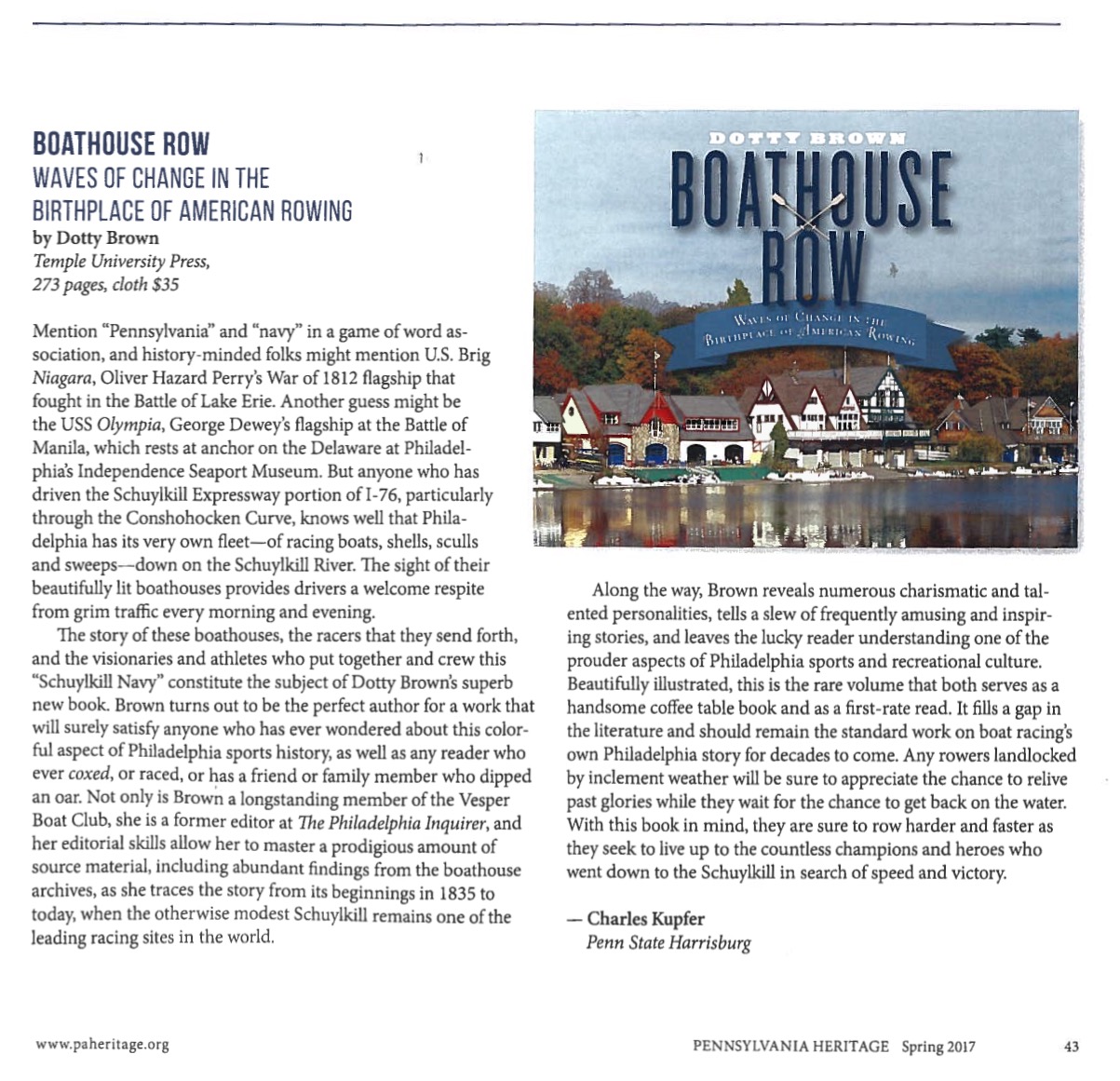 ---
T he Philadelphia Inquirer calls Boathouse Row 'a glorious tale of a Philadelphia landmark,' written with 'powerfully rendered tales … 'a novelist's pacing.' See full review:
–Beth Gephart, author of 21 books, including "Flow: The Life and Times of Philadelphia's Schuylkill River" and "Love: A Philadelphia Affair."President, Philadelphia Girls Rowing Club
---
I read the book cover to cover, having bought it at the Head of the Schuylkill. Well done, well done, well done. You've painted the picture with words, accurately without bias. I lived some of the stories and events written on those pages so I feel qualified to say this. I also know the names or know the people firsthand. Much appreciated. Thank you, Thank you. –Sophie Socha, President, Philadelphia Girls Rowing Club
---
Boathouse Row is a must-read for anyone interested in the sport of rowing and the enormous contributions of those who once plied the Schuylkill River. Dotty Brown chronicles not only the famous athletes of yore, like John B. Kelly, but those noteworthy artists, architects, businessmen, and politicians who helped to build this historic piece of riverbank into the living dynasty that it remains today. With the deft hand of a skilled writer, she unravels a Philadelphia story filled with fascinating characters, revealing new insights on old stories that have remained shrouded in mystery, and supplements her narrative with beautiful artwork and photography.
–Daniel J. Boyne, Harvard University rowing coach and award-winning author of The Red Rose Crew; Kelly, a Father, a Son, an American Quest; Essential Sculling.
---
Just when you thought you knew everything there was to know about Boathouse Row, along comes Dotty Brown who writes the definitive book on this historic location in Philadelphia. With the skills of an investigative journalist, she connects all the dots and brings the evolution of Boathouse Row, its people, its architecture and its stories together in a book that is almost too good to be true. With stories, photos and quotes from Boathouse Row legends, this book should be in every library of every rower…especially the younger generation that needs to know there's much more than just getting in a boat on the Schuylkill River.
—Ellen Carver, President of the Head of the Schuylkill Regatta
---
Within this remarkable book, Dotty Brown–a wonderful storyteller–accomplishes what no one else has done. She tells the fascinating and true story of Boathouse Row, a national historic landmark of 15 boathouses on Philadelphia's Schuylkill River. It's a satisfyingly complete narrative, filled with colorful, real-life characters and the drama of rowing's struggle to assert itself as a pre-eminent sport. Through her meticulous research, lively interviews and indelible writing, Dotty Brown brings Boathouse Row memorably to life.
Anyone who savors reading the triumph of striving athletes as they finally achieve victory will enjoy this highly readable book. Sounding like fiction, its brilliant story is both factual and entertaining. Illustrated with beautiful archival photos, Boathouse Row, the book, will illuminate the legends of rowing for rowers and landlubbers alike. Boathouse Row, its historic site a center of the U.S. rowing community, comes alive here as never before. I loved this book! – Jean Clemons Jean Clemons teaches management communication to Wharton MBA students at theUniversity of Pennsylvania.
---
Interviews
Philadelphia Inquirer WHYY Radio Times Row2K.com Pat Loeb, KYW News Radio Main Line Today Jewish Exponent Philadelphia Style Philly Factor – LaSalle PA Books–Pennsylvania Cable Network Loraine Ballard Morrill, IHEART Radio John Ricciuti, Radnor TV On Parts of a Shell Q&A with Temple Press WRDV – I Hear America Talking – Dotty Brown – Boathouse Row 28:42 :