BOATHOUSE ROW
Waves of Change in the Birthplace of American Rowing by Dotty Brown
Boathouse Row is the first book to lift the curtain on the little-known culture and history of Philadelphia's iconic 19th century landmark, revealing stories of passion and perseverance along with hard-won victory. With more than 160 photographs, Boathouse Row chronicles the "waves of change" as people of different races, classes, and genders fought for access to water and the sport.
GO ON A JOURNEY
Dive into the story right now.
On an Indian summer day in 1835, thousands of Philadelphians closed up shop and made their way by foot and by horseback, by wagon and by carriage, to witness the first major regatta on the Schuylkill River. Many of the spectators were elegantly dressed – the men in frock coats and top hats, the women in long dresses, shawls and plumed chapeaux. At least, that's how the Italian painter Nicolino Calyo, who was passing through Philadelphia that fall, depicted them in the era before photography. The crowd that November 12th, more than 150 years ago, was the single largest gathering ever assembled on the river, all for a race. Big awards were at stake….
Buy the Book
Read & Explore
Recent Reviews
"Brown delivers…with a novelist's pacing…powerfully rendered tales"
— Philadelphia Inquirer Read Full Review
Follow the Author
MEET THE CHARACTERS
Thomas Eakins
The young artist—yet to be America's greatest realist painter—turns to Boathouse Row, the world he knows, for his first subject. Eakins lives just blocks from the river and is a rower himself; his best friend from Central High School is winning championship races; and his chemistry teacher is president of a boat club. Besides, rowing is where it's at in the 1870s—the nation's hottest spectator sport.
Frank Furness
The budding architect comes home from the Civil War a hero, ambitious and daring. He's a risk taker, a radical, ready to make an imprint on his staid Colonial city. He quickly stuns his hometown with his eclectic design for the Pennsylvania Academy of the Fine Arts. Few people know of the dynamic and lasting impact he will make on another part of town: Boathouse Row.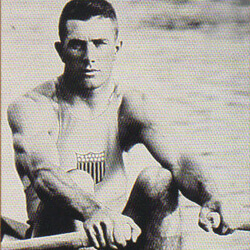 John B. Kelly Sr. (Jack)
The child of poor Irish immigrants, Jack Kelly, is determined to make it. His story is one of passion and perseverance as he builds a business, a Democratic political powerhouse, and a competitive record so unrivaled that he remains the only rower in the U.S. Olympic Hall of Fame. Much as he built his company, brick by brick, so on Boathouse Row he lays the foundation for its future.
John B. Kelly Jr. (Kell)
Son of a two-time Olympian and brother to a Princess (Grace Kelly, of course), Kell manages to reach extraordinary heights of his own, even though—or maybe because—he is pushed to fill the hole in his father's resumé. Women love him, not just his many flames, but the athletes determined to break into a males-only Boathouse Row, where he opens the door.
Joe Burk
The tall, muscled football player from Moorestown, N.J. high school who labored on his family fruit farm seems an ideal candidate for crew when he lands at the University of Pennsylvania. Little does his coach realize that this quiet, modest business major will rise to become a one of the greatest rowers and coaches America has seen.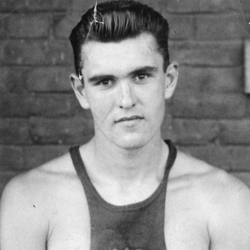 Thomas Curran
They call him "the Bear." And for good reason. He is a character, big in every way— the kind of guy who will chase down an armed burglar, break world records with other Philadelphians in the "Big Eight," and be remembered with affection and gratitude by generations of champions, for both his cutting quips and his coaching acumen.
Ernestine Bayer
She grows up a tomboy in an era when it isn't seemly for women to exert themselves. She and her boyfriend secretly elope so he can compete in the Olympics in an era when sex is believed to sap a man's strength. And, in an era when only men row, the "mother of women's rowing" conjures up a way to start the first competitive women's rowing club in the United States.
Joanne Wright Iverson
A generation younger than Ernestine Bayer, Joanne discovers that she's damn good at rowing. So good that she decides to train for the Olympics. Only there are no Olympics for women like herself. Six decades after men's rowing became an Olympic sport, women's rowing is still not on the roster. Joanne commits to changing all that, and what a battle it is.
The Vesper Eight
They are eight characters—ten, if you count their coaches. "Old men," a "motley crew," the press call them. One is 46; one is a father of six; a couple are Ivy Leaguers who spar with the military guys. They call each other "pussies." And they have a Jew and a German as their coaches. They are the surprising story of the most unlikely crew ever to pull a boat, and I won't give away the ending.
Edward T. Stotesbury
"Stotesbury"—that's the event where thousands of kids compete in the world's largest high school regatta. But who is Stotesbury, the man? And how did his name get on a rowing race? In his time, banker and billionaire Edward T. Stotesbury is one of Philadelphia's best known citizens, but few know of his role on the river where he is called "Gum".
Philadelphia School Children
The last demographic wave to reach the shores of Boathouse Row are the children of Philadelphia's public and charter schools. Curiously, city public school students were among the first high school rowers on the Schuylkill, back in the 1800s. So why did they go away for so long? And how, through the non-profit Philadelphia City Rowing, are they making a comeback?
Upcoming Appearances
No shows booked at the moment.
NEWS, REVIEWS, & RESOURCES
A STORY ABOUT
Desire
"In November 1962, Emory Clark received a letter that would change everything. "Dear Em," Boyce Budd wrote, "I have decided that come Hell or high water I for one am going to be participating in the 1964 Olympic Trials . . . I sincerely hope that you and I can team up in a pair and win the whole lot . . . It is going to take an extraordinary effort . . . With a will and the kind of devotion that it will take, you and I could win two gold medals. . . . We must start now! What do you think, Buddy?"….
Transformation
"If there is one way that Boathouse Row holds a mirror to America, it is in its slowly changing complexion, one that started out to a great extent with the dominance of white men of means, expanded with working men and immigrants, and finally exploded with the much-delayed inclusion of women. The children of Philadelphia's impoverished public school system, most of whom are now African American, Latino, and Asian American, are the last to show up on the dock."
Excellence
University of Pennsylvania Coach Joe Burk's rowers had to stick to his rules. There were curfews. Drinking was forbidden. Concerned about the carbonation, he even banned Coke. ...
"Having his boys toe the line was not just about crew. 'A boy needs to have some physical strain, to know what it is to work hard and sacrifice,' Burk would say. 'Life is getting easy now, and they need something that tests them and teaches discipline. If crew were only victories, I wouldn't do it.'…